PV Power to pay cash dividend, develop solar energy
11 June, 2020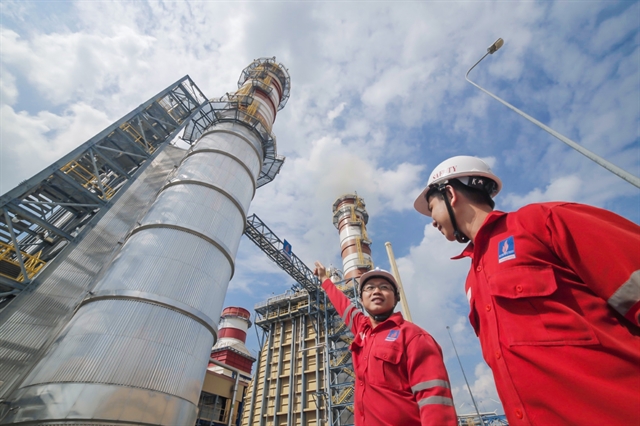 HÀ NỘI — PetroVietnam Power Corporation (PV Power) plans to pay a 2019 cash dividend of 3 per cent instead of paying in shares at a rate of 6 per cent as planned previously.
The corporation targets to earn VNĐ35.5 trillion (US$1.5 billion) this year, up slightly from last year.
Post-tax profit is forecast to decrease 28 per cent to VNĐ2 trillion.
These results were estimated based on the scenario of oil prices staying at $60 per barrel.
Due to the impacts of social distancing orders and the temporary shutdown of production nationwide during the COVID-19 pandemic,  the demand for power had reduced significantly, according to PV Power.
They said electricity output from PV Power's plants had fallen by about 10 per cent.
In a meeting with investment funds held on Monday, to follow the global trend of renewable energy development, PV Power's leaders revealed the corporation's plan to establish a member company to develop solar energy, which was awaiting approval.
PV Power plans to install rooftop solar panels on all of the Vietnam Oil and Gas Group's (PVN) facilities.
"We have experience in power investment management and operation. We are selling electricity to EVN with the available infrastructure, and the connection will be convenient. The bidding mechanism for solar power projects remains very competitive but the investment process is simpler than other power sources, so we are confident we can implement it quickly," said a PV Power representative.
"In the first year of operation, PV Power expects to have a solar power capacity of about 50 MW, relatively small compared to other units in the industry. However, with the advantages of infrastructure and staff, many other units are eager to co-operate with us."
To ensure input materials for production, PV Power needs about 3.4 million tonnes of coal this year and has signed long-term contracts with some suppliers, including the Việt Nam National Coal and Mineral Industries Group (Vinacomin or TKV). Under the contract, TKV will provide about three million tonnes of coal for PV Power.
Gas reserves for the Nhơn Trạch power plant is declining, but the company's supplier PV Gas is expected to supplement gas exploited from the Sao Vàng Đại Nguyệt gas field.
The gas field is located in Nam Côn Sơn Basin, approximately 300km offshore Vũng Tàu City at a depth of 110-130m.
PV Power is also researching the use of alternative raw material sources such as liquefied natural gas (LNG) for the plant to reduce dependence on one supplier. — VNS
Source:https://vietnamnews.vn/economy/717340/pv-power-to-pay-cash-dividend-develop-solar-energy.html
Views: 87